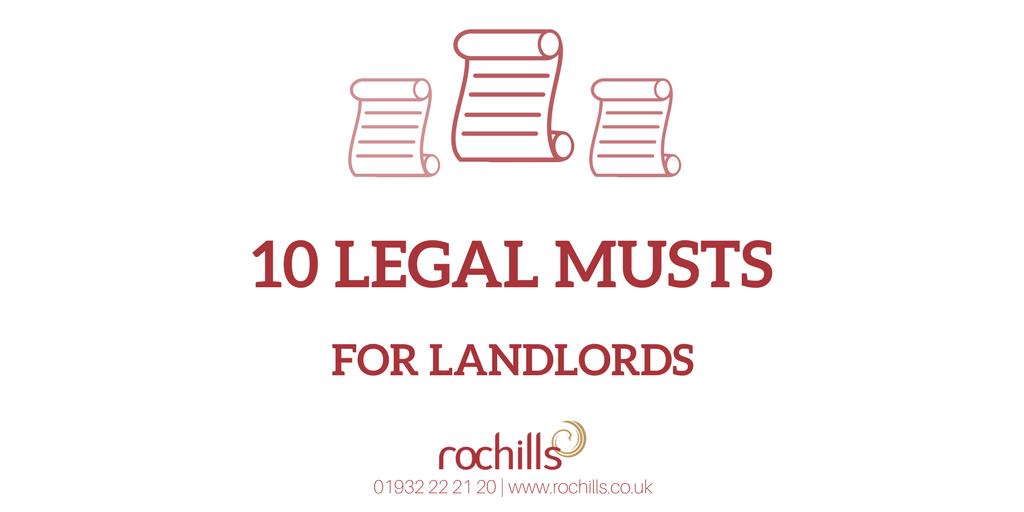 10 LEGAL MUSTS FOR LANDLORDS
1, Gas Safety
Where there are any gas appliances in the property provided by the landlord, the landlord must ensure that annual gas safety checks are carried out. These checks must be carried out by a gas fitter/engineer who is registered on the Gas Safety Register (which has replaced Corgi). A copy must be given to the tenant before the tenant moves in and the check must have been carried out within the 12 months before the new tenant takes up occupation. Checks must be done annually at no more than 12 month intervals and copies of all certificates for checks must be handed over to the tenant.
2, Fire Safety Order
Where a landlord controls flats, bedsits or hostels there must be a risk assessment in place to comply with the Fire Safety Order. It should be in writing. A statutory risk assessment is not required for shared houses or single dwelling lets.
3, Energy Performance Certificates (EPCs)
Before a tenant moves in there must be an energy performance certificate in place for most types of property. This must be made available to prospective tenants and a copy of the certificate given to any tenant who moves in to the property.
4, Deposits
If you take a deposit from a tenant under an assured shorthold tenant, the deposit must be protected under one of the three tenancy deposit schemes and the prescribed information regarding the deposit must be given to the tenant within 14 days of receiving the deposit.
5, Payments Of Rent/Administration Fees
It is very important that advance payments of rent and non returnable administration fees are not confused with deposits. You should always make clear to tenants what money is being taken for; otherwise it could be regarded as a deposit which shall be protected under one of the deposit protection schemes.
6, Licensable HMOs
If your property is a house in multiple occupation (e.g. bedsits, shared house or a shared flat) then if the property is on three or more floors and has five or more occupants an HMO licence may well be needed from the local authority.
7, Electrical Inspections
If your property is a house in multiple occupation of any kind then you must have a five yearly electrical safety check carried out by a competent electrician even if you do not need a licence. This will cover shared houses, flats in multiple occupation, bedsits, hostels and certain converted blocks of flats. These are blocks of flats which are not converted in compliance with 1991 (or later) building regulations and less two/thirds of the flats in the block are owner/owned.
8, Electrical Appliances
Where a property is provided with electrical appliances it is the landlords responsibility to make sure that they are safe at the outset of letting.
9, Fire Alarm Systems And Fire Precautions
Where fire alarm systems are provided in a house in multiple occupation because the landlord is responsible for insuring fire alarms are checked regularly. You must also make sure that the means of escape from the property (normally the halls stairs and landings) are unobstructed. Houses in multiple occupation include shared houses, flats in multiple occupation, bedsits and certain types of converted flats. See under number 7 above.
10, Illegal Eviction/Harassment
You must not harass your tenants. It is unlawful to evict a tenant without a Court Order. You cannot throw a tenant out because he is in arrears with his rent or breaking the terms of his tenancy. You must go to Court to get a possession order. Any possession order obtained must be enforced by the Court Bailiff.
If you'd like more property advice or would like to keep up with the local property market trends, join the Walton Property Community Group on Facebook or you can subscribe to our YouTube channel for free property advice, local property news and market updates.