Meet Our Team
Without doubt, our staff are our greatest asset. Importantly our staff live locally and are passionate about Walton on Thames and the surrounding areas. They provide new buyers and tenants information about the local area . They are highly experienced and incredibly dedicated professionals who share a common aim – to provide the best service possible.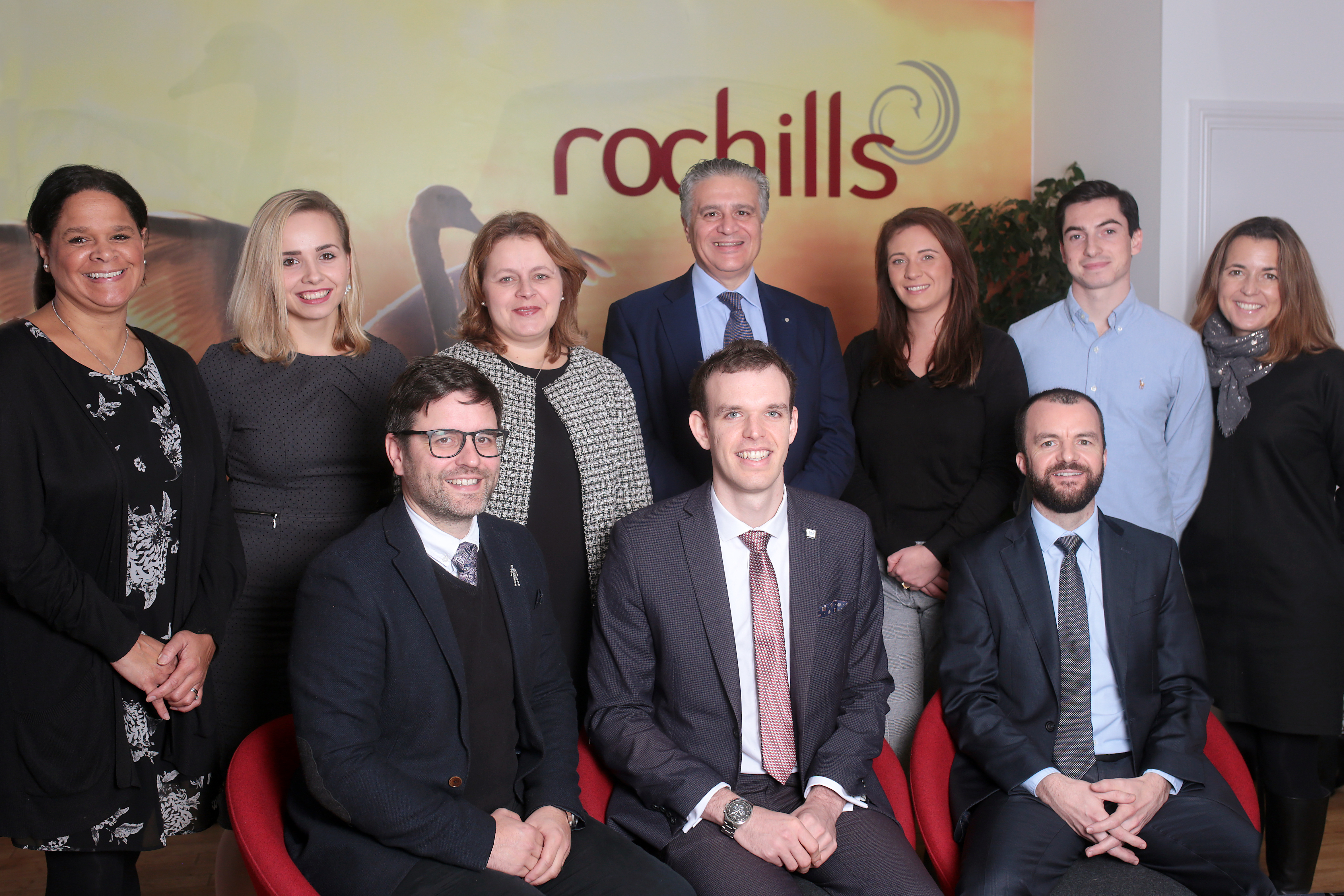 Get to know Marcel...
A bit about me: Originally I trained as a telecommunications engineer and progressed within different organizations such as Olympia, British Telecoms, Radio communications Agency, Department of Trade and Industry and Ofcom and more recently as a franchisee of Your Move. Each role enabled me to gain experience in management and business. Whilst working with these organisations I purchased and let properties and the combination of my work experience and property experience provided me with the skills to develop Rochills.
What made you change career and triggered you to become an entrepreneur? At the age of forty I felt that whilst running other people's business was enjoyable I was drawn to work for myself as an opportunity not to be missed.
In setting up Rochills what were your core objectives? To change the customers perception of Estate agency and remove the stress of moving. To enable staff to see that we are a people moving business. I would like my staff to want to come into work and have a sense of purpose.
What makes Rochills different? We focus on the moving experience and not just selling or letting a property. We make the clients the focus of our attention. We look at the client's journey rather than just the end goal. To achieve this we really need to understand the people we are dealing within a moving transaction. This way of thinking sets us apart and generates repeat business.
What strengths did you bring? Vision drive and determination to succeed.
What have you learnt?
Understand people: The sales and lettings transaction is reliant on a number of people who often have different vested interests. The team need to be aware of these and navigate the process in order to achieve the result the clients want.
You are only as strong as your weakest link and therefore an open culture of continuous improvement is paramount.
What do you look for in your employees? Good attitude, a desire to learn, the ability to overcome problems with solutions and a care for people.
What I do out of work: I love to travel and am a foodie, I love to spend time with my family love to talk and joke and have fun. I love gardening and a enjoy watching football.
Proudest moments to date: I saved two babies lives after they fell into a swimming pool. While working within the Government I presented to the Business Trade Minster and received a recommendation for my services. Lastly I am proud of what we have achieved with Rochills and proud of the three property awards we have gained.
Favourite Something: Cheese, cheese and more cheese!
Favourite Place: The river stretch by Walton Bridge, a great place to watch the world go by while enjoying lunch with the Swans and great views of the River and the Bridge.
Get to know Sarah...
I started work at the age of 16 at Guinness Mahon Bank in the City of London when the cost of my annual season ticket exceeded my salary!!. After a couple of years, I moved to a Japanese bank called Hokkaido Takushoku Bank Ltd where I spent 10 years in the Foreign Exchange Department during which time I was a money market trader for Sterling and Japanese Yen. Despite the long hard hours, working in the City of London was an exciting time in my life where I learnt how to make instant decisions and to prioritize tasks, two attributes that have stood me in good stead throughout my life both professionally and personally.
After the birth of our first child, some twenty-five years ago, I moved to High Street banking and have worked for both Halifax and Barclays. As landlords ourselves for over 30 years it was inevitable that Marcel and I would work in property and in 2003 Rochills was founded in Walton on Thames.
I am extremely proud of all of our staff who each give their full commitment to their job. Here at Rochills we all feel very strongly that a customer's needs must be met at all times. We pride ourselves that we have a reputation for our quality of service and professionalism together with a friendly approach. Nothing is too much trouble for us. That is why so many clients and their families come back to us.
As a working mother to 3 children my days are challenging but rewarding and I look forward each week to a long Sunday morning walk with our two dogs as well as my weekly Pilates class.
Get to know Craig...
A little bit about me: 
I have lived in the Surrey area since 2005, where previously I had lived in my home town of Harrogate, North Yorkshire. I was a chef in a previous life and worked in catering for many years. With my move to Surrey, I had a change in career and joined the biggest independent estate agent, Cubitt & West, where I worked as a trainee for 2 years and then moved to a local branch close to my home. In 2009, I joined Rochills as a negotiator and since 2012 have held the position of Sales Manager. Running the day-to-day business along with the Directors ensuring the office runs as smoothly as possible.
What I do out of work: Outside of work, I love spending time with my young family on days out as well as quality time at our home. I am also a keen supporter of my beloved Leeds United and try to watch them when my busy schedule allows. However, my big love are triathlons and cycling and love competing in many different events whether it is to raise funds for charity or simply to better my performance each time.
When you started at Rochills: June 2009
What I enjoy about working as an Estate Agent: I love working for a family business with a close focus on our core values. Giving our clients, which are people and not property, the best service from our individual approach to Estate Agency.
Proudest moments to date: The proudest moments of my life are the birth of my two sons. Being made Sales Manager of Rochills comes extremely high on the list. In 2015, I raised over £5,000.00 for a local hospital to buy equipment for their cardiac unit.
Favorite something: My favorite something has to be my collection of road bikes – getting in the saddle and getting lost for a few hours on an early summers morning… what could be better!
My customer service commitment: I learnt a phrase on my very first day of working for Rochills and still adhere to it to this day and use it throughout all aspects of my life….. "The standards you set, are the standards you get"
Get to know Daniel...
A little bit about me: I have lived in Walton for 6 years and lived in Weybridge for 7 years before that. I left university in 2002 and went straight into estate agency. I have worked for large corporate estate agencies as well as the smaller independent ones. I enjoy the flexibility and creativity of the independent estate agencies compared the rigid and soulless brands you sometime come across. I am married and have a son who attends Ashley school. Also an avid Liverpool FC fan and general sports nut.
What I do out of work: Any spare time I have is spent with the family. Either bike rides along the Thames or trying to get my 5 year old to enjoy golf…with little success to date.
What I enjoy about working as an Estate Agent: I love the varied nature of the job. No day is the same. I also love helping our clients achieve their dream move. Whether it's a first time purchase or moving up the ladder to house a growing family…..it's great to see them achieve what they need, to make their families happy.
Proudest moments to date: Undoubtedly it must be the birth of my son. He makes me laugh every day.
Favourite something: My favourite day of the week is a Sunday. I love to cook a roast for the family with a glass of red, whilst watching the football.
My Favourite Place in Walton: I think Walton offers a great deal for a lot of people. As a family we can enjoy going to the cinema, eating out in a choice of restaurants or enjoying time in a river front pub in the summer. For a small town I think we are lucky to have so much on our door step. It's a great place to live.
My Customer Service commitment: I think every client should be treated as an individual who has their own needs and expectations. I like to ascertain at an early stage what they are looking to achieve and how we can all work to together to make it happen for them.
Get to know Jonathan...
A little bit about me: Working at Rochills has been fantasticand very different from my last job as manager of a running shop! But I've always had an interest in the property industry I've found the career for me. I'm currently studying for my award in Residential Lettings and Property Management.
.
What I do out of work: For me, nothing beats spending time with my family, and whatever we do together, I couldn't be happier!
Started Rochills: January 2016
What I enjoy about working as an estate agent: I feel very privileged to work for a family run business. I sit with a very experienced director who is always helping me achieve the best I can. I don't think I would get this level of training working for any other agent. Everyone in the office is great fun and it makes me excited to go to work in the morning.
Proudest moment to date: Getting married and buying a house
Favourite place in Walton: There are some fabulous restaurants in the Heart, andI often go out to dinner there. The Swan pub, by the river, is lovely too.
My customer service commitment: I have always worked in environments where excellent customer service is essential, so it's second nature to me. The customer always comes first with everything I do.
Get to know Sascha...
A little about me: 
I grew up in Shepperton and Walton, a local girl, and then at the age of 18 after a few months of travelling and worked teaching dance at a summer Camp in Pennsylvania.  I started my degree in Law and Social Science at the University of Hertfordshire.  I moved and brought my first property at the age of 22 and lived in North London and worked and continued my studies with a private practice firm in Mayfair (which was great fun). After more exams I qualified as a Solicitor and then spent the next ten years working for a lovely vibrant practice in Putney until July 2014 when I left to spend some time  working on my family home and undertaking the task of painting the house inside and out top to bottom. My family all live locally and I have relatives in the Walton and Weybridge area with my children attending the local school.
Out of Work: I spend a lot of time in France and I love to travel in the last few years having been to Lisbon, Antigua, Florida, Sardinia, Amsterdam, New York and Spain. We have a family home in rural Brittany and I love the laid back way of life which includes a lot of physical work including driving a tractor, cutting down trees and building dens and lots of fires!  I love Yoga and have been going for about for about two years and would love to have more time to dedicate to my practice as well but there is never enough time in the day.
Start Date: I started working for Rochills in November 2015.
What I enjoy about working as an Estate Agent: I am a property manager for Rochills and so liaise with tenants and landlords on any maintenance issues which can cover all manner of things from liaising with contractors on site for works to attending the reports of the obligatory boiler breakdown on the first day of winter.   I enjoy the challenges and every day is different and the work is varied.
Proudest Moment: Throwing myself down a roller coaster to impress the children and of course having two great children to impress in the first place.  On a serious note I assisted a victim of a serious assault offering first aid (that I learnt watching T.V).
Favourite something: I love picnics and cooking a roast dinner on a Sunday for the family.  I enjoy going into London enjoy the theatre and exhibitions.  My favourite place is the River and I often take a moment for a walk and a bit of me time.
Customer service commitment: Having worked with people for many years from all walks of life I have learnt never to assume their needs and to listen and then to act.
Get to know Rachel...
A little bit about me: 
Born in Germany to an English Mother and American father and up until my teens we moved every 3 years as my dad was posted to different Air Force bases. We finally settled in the UK (Surbiton to be precise) to be close to family where I finished my schooling and entered the workplace at 17. My first role was as an office junior in the Treasurer's Secretariat at County Hall in Kingston. I then joined an Independent Financial Advisers as a typist and over the 10 years, I became the PA to the Director, Office Manager and ran the Secretarial team. I took a few years out to raise my family and returned to work in a completely different role for the next 10 years and qualified to become a Pre School Practictioner. We moved to Walton on Thames 5 ½ years ago, the children are at local schools and we are settled and happy.
What I do out of work: I have two teenage children and an eight year old so most of my time is spent organising where they need to be! They all participate in a sport(s) which means mid week training, matches/events at the weekend and I very much enjoy being a part of that. I also enjoy socialising with family and friends.
When you started at Rochills – February 2016
What I enjoy about working as an Estate Agent: I have recently joined Rochills to provide office support for both the Sales and Lettings teams and to implement social media and marketing strategies. What I particularly like about working at Rochills is that it is a family run business and it feels it. This is a new role for me and Rochills have given me the opportunity to get back into the office environment with guidance and support. My day is varied from tweeting, organising property publications, property details, window displays, arranging of meetings, website content, client liaison …the list goes on – I am learning a lot!
Proudest moments to date: I have done quite a bit of travelling visiting countries like Thailand, Malaysia, Singapore, Mexico, Aruba, Peru, India and Nepal to name a few – all with just the flight booked and a backpack!
Favorite something: I enjoy entertaining at home having dinner parties and BBQs. Music and reading are also at the top of my favourite things.
Favourite place in Walton: Is our stretch of the River Thames
My Customer Service Commitment: Is to treat others how I would like to be treated!
Get to know Sharon...
I was born in Malaysia and moved to Melbourne Australia at a young age.
I have worked in Asia and Australia in Advertising for global brands such as Saatchi and Ogilvy, with key accounts in FMCG and the estate agency field.
I moved to England 10 years ago to get married and start a family, where I have happily settled in Surrey and take an active role in our local school and community.
Sharon lives in the Weybridge area. She has a number of year experience in customer service and carries out sales and lettings viewings.
Get to know Michaela...
A little about me: I came to England from the Czech Republic when I was 19 and had so much fun working as a Nanny, while deciding on the perfect career for me. It also helped to improve my English!
I'm from a really sporty family. Therefore, it was a logical step to train as a Gym Instructor; which eventually led to the position of Gym Manager. The skills I acquired during this time were extremely transferable, and I've found it's been a smooth transition into the world of real estate.
I'm passionate and motivated with everything I do and always give more than 100%  – which I guess is not surprising as a sports enthusiast!
Out of Work: As you can imagine, as a qualified Gym instructor, I love all sorts of sports. I've recently started Crossfit, and I'm also a big fan of running and currently training to run a full marathon. I'm also a very inquisitive person and like to explore different places and taste new food. I also believe in self-development and devour books that will help me improve and grow as a person!
Start Date: I started working for Rochills in June 2018.
What I enjoy about working as an Estate Agent: I love to help people, it's very satisfying. And as an estate agent, I can help our customers find their dream home and my clients to move onto the next chapter of their life.
Every day in this industry is different, which keeps me on my toes and allows me to learn new things. That's why I really enjoy this job… there's never a dull moment.
Proudest Moment: I won the award 'Overall most outstanding student of the year in East Berkshire college' and was interviewed by local newspapers – very exciting!
Favourite place in Walton: Without question, it's the Walton on Thames town centre. I just love getting to know new people and the crowded high street is a great place to do that. I especially like Costa coffee shop on the High Street. You'll find me there on my lunch breaks, and it's where I meet many of my clients.
Customer service commitment: My three mainvalues are: Make the customer happy; build relationships; and always go the extra mile.
Get to know Laura...
A little bit about me: For the past 10 years I have worked in the property industry, within the county borders of Berkshire and Surrey. Throughout this last decade I have gained knowledge within sales, lettings and property management. Dealing with clients through the moving process and post tenancies.
What I do out of work: I enjoy spending most of my time with friends and family. I also enjoy travelling, after having recently travelled around Bali and Africa, I am currently deciding on my next destination.
When you started at Rochills: I started working at Rochills in June 2018.
Proudest moments to date: Climbing Mount Batur in Bali.
My Customer Service Commitment: Is I think customer service is all about going above and beyond the customers expectations. I like to treat others how i would like to be treated.
Get to know Lauren...
When you started at Rochills: October 2016
My Customer Service Commitment: Customers may forget what you said, but they will never forget how you made them feel. Always be helpful and make them feel valued.
Favorite place in Walton: The riverside as I find it peaceful.
"We would have no hesitation in recommending Rochills, in fact, we already have!…"
We were totally pleased with all aspects of our dealings with Rochills. Everyone concerned showed constant respect to us and the house we were selling. An excellent and professional approach made the whole process run very smoothly. Our thanks go to everyone on the Rochills team, but particularly to Joe and Craig. We would have no hesitation in recommending Rochills, in fact, we already have!
"Five stars all the way down…."
They say "If something is too good to be true then it usually is". Not so Rochills Agents. Five stars all the way down.Thanks for selling my property and the advice and help in the whole process of purchasing a new home.