House prices
Official figures indicate UK house prices rose by 4.4% in the 12 months to February 2018, down from 4.7% in the year to January. The West and East Midlands are currently experiencing strongest growth rates.
Economy
The rate of inflation fell in March to 2.5%, its lowest level in a year. Prices for clothing and footwear as well as alcohol and tobacco rose at a slower rate than expected, helping ease inflation pressures. The larger than expected fall may well call into question the anticipated Bank of England interest rate rise in May.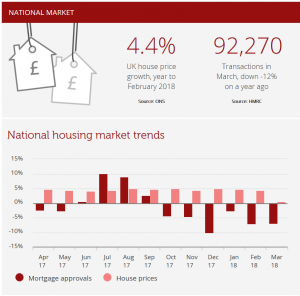 Transactions
The number of homes sold in March across the UK was 12% lower than in March 2017 according to the HMRC. The figures for the first few months of 2018 have also been revised downwards and transaction levels are now thought to have been below 100,000 for the past four months.
Demand
Mortgage approvals slipped back further in March, according to the Bank of England. 62,914 loans were approved which is 7% below the same month a year earlier, and with the exception of December 2017, the lowest level since August 2016. The value of lending rose by 3.1%, thanks to an increase in remortgage activity.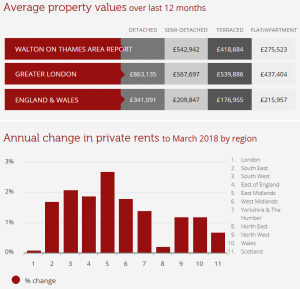 Investment
Average private rents across Great Britain rose by 1.1% in the 12 months to March 2018 according to the ONS private rental index, unchanged from February. Levels of tenant demand are largely unchanged but landlord instructions continue to fall according to RICS. As a result, average rents are expected to rise over the short to medium term at a national level.
For more free advice and updates on the local property market, join the Walton Property Community on Facebook or check out our video advice library on our YouTube channel here.