An energy performance certificate (EPCs) shows the energy efficiency of a property and gives a rough idea on the costs of running the property. It is a legal requirement for landlords, or their agent, to advertise a property with a valid EPC and any potential tenant must receive a copy before they sign contracts, or move in.
An EPC gives a property an energy efficiency rating from A (most efficient) to G (least efficient) and is valid for 10 years. It must be renewed after 10 years, even if a tenant has been living in the house for a while. The EPC must remain valid throughout the tenancy. The minimum rating for renting a property changed in April 2018, it's now an E. These EPC changes mean it will be unlawful to let or lease a residential or commercial property with an EPC rating of F or G. This is what an EPC certificate looks like: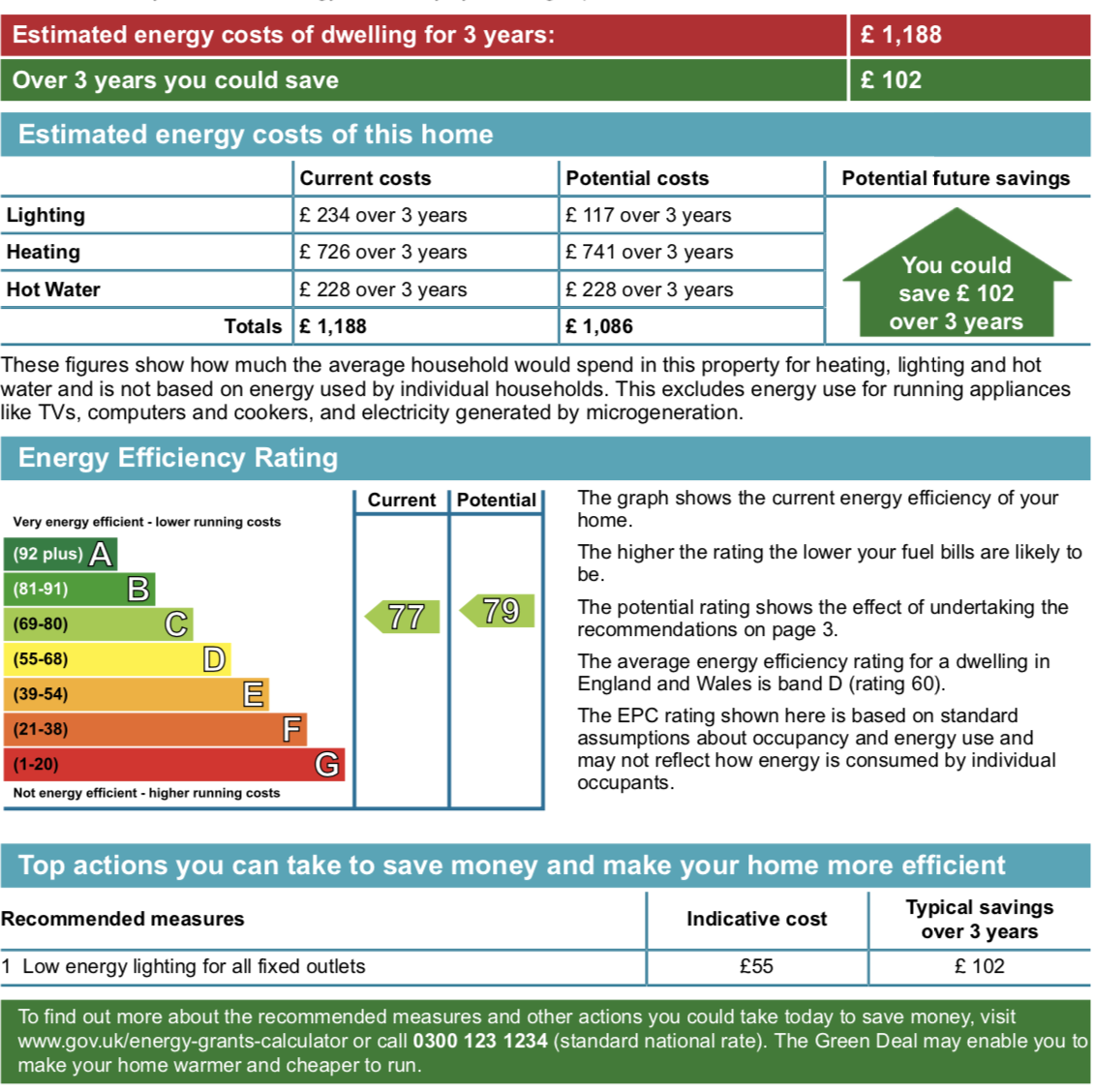 Energy Performance Certificates (EPCs) are needed whenever a property is; built, sold or rented.
You must order an EPC for potential buyers and tenants before you market your property to sell or rent. In Scotland, you must display the EPC somewhere in the property, eg in the meter cupboard or next to the boiler.
An EPC contains:

information about a property's energy use and typical energy costs

recommendations about how to reduce energy use and save money
Buildings that don't need an EPC
These include:
places of worship

temporary buildings that will be used for less than 2 years

stand-alone buildings with total useful floor space of less than 50 square metres

industrial sites, workshops and non-residential agricultural buildings that don't use a lot of energy

some buildings that are due to be demolished

holiday accommodation that's rented out for less than 4 months a year or is let under a licence to occupy

listed buildings – you should get advice from your local authority conservation officer if the work would alter the building's character

residential buildings intended to be used less than 4 months a year
We recommend emailing the tenant a copy, confirming they have received it. Failure to have a valid EPC or provide the tenant with a copy could result in a landlord not being able to serve a section 21 notice and may receive a hefty fine.
For more information on lettings legislation, please call me on the details below.
01932 22 21 20