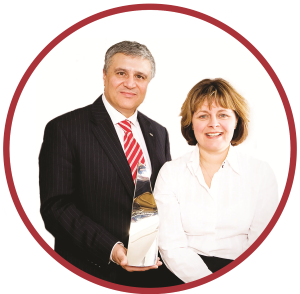 Marcel and Sarah Roccia
Founding Directors
Marcel and Sarah Roccia opened Rochills in 2003 in Walton on Thames which has now established itself as one of the most respected sales and lettings agency in Surrey.
Marcel and Sarah are proud that Rochills have won four property industry awards in the last four years and are currently voted by their clients as the Best Estate Agency 2015 for (1-3 offices). They strive to provide the best customer service while being efficient and transparent, resulting in their customers becoming regular clients. Their vision is to be the best at helping people move and helping investors make the correct decisions. With Rochills it's all about trust, reputation and building long-term relationships.
What Services do you offer?
Award winning, of course! We offer two types of service – Fully managed and a tenant find only service.
What are your fees?
Please see 'our' fees page. Do you offer any rent protection cover – this covers rent arrears as well as court fees, in the unlikely event it would come to this, please ask for more details.
I would like to put my property on with Rochills
We offer free, no obligation valuations and give you an honest price which takes into consideration the current market, the type of tenant you would like and the area in which the property is in – if you wish to go ahead and instruct Rochills to market your property, we will send out an agency agreement along with our fees – 10% plus VAT for managed and One months' rent for tenant find.
We then come out and take photos of your property along with some measurements and both external and internal property descriptions.
How do you choose the right tenant for my property?
It is important for us to make sure the right tenant goes in to the right property – we like to discuss with you, your preferences such as non-smokers, no pets etc. We then only match tenants to suitable properties and meet them at the viewing to make sure the property is right for them and vice versa.
What deposit do you take?
We take a month and a quarter Deposit – this is held with the DPS and providing the property is given back I the same condition that it was let, the Deposit is returned to the tenant at the end of the tenancy. If there are any issues, such as property damage or rent arrears, part or all of the Deposit can be held back to cover the costs.
Please note that whilst all deposits are protected with the Tenancy Deposit Scheme, Rochills Estate Agents does not offer Client Money Protection Insurance.
How do your services differ?
Fully managed service is the route landlords wish to go down if they would like to remain away from the rental and let us deal with all the work. The tenant find only service is what it says on the tin – we find a tenant for you including everything we do for fully managed service up until the point of moving in. The tenants will then receive the landlords details in their moving in packs for future reference. For more information regarding the services please contact us to arrange a free no obligation Valuation and we can go through our services in more detail.
How often do you carry out inspections?
As well as collecting the rent promptly, ensuring your property is being looked after is one of our top priorities. Our initial inspection is usually between 4 and 6 weeks after the tenant has move in. This is to make sure they have settled in well and there are no teething problems (we also believe in ensuring we have a good relationship with your tenants too, as happy tenants end to look after properties better and pay the rent on time). Every visit after our initial inspection is every 6 months and, shortly before the end of a tenancy. We will contact you after each visit, usually in writing, to report back and to advise if there are any problems.
What do I need to do before you come for an instruction visit?
Our visit does include taking photographs – make sure the property is clean and clutter is tidied away – if the property is still in the process of getting ready to let we can take external pictures only to begin marketing , in this case a floor plan may be useful.
Rent Guarantee?
We put all provisional tenants through a referencing process – this looks at credit history, previous landlord references and employment references – if the tenant is to the top of their affordability limit, we safeguard your rent by asking them to provide a Guarantor who would stop in should their be any arrears. We can provide information regarding rent protection cover – this covers rent arrears as well as court fees, I the unlikely event it would come to this.