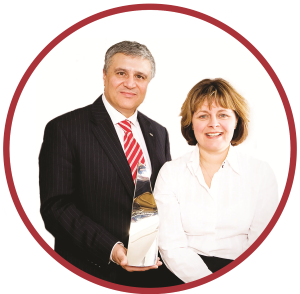 Marcel and Sarah Roccia
Founding Directors
Marcel and Sarah Roccia opened Rochills in 2003 in Walton on Thames which has now established itself as one of the most respected sales and lettings agency in Surrey.
Marcel and Sarah are proud that Rochills have won four property industry awards in the last four years and are currently voted by their clients as the Best Estate Agency 2015 for (1-3 offices). They strive to provide the best customer service while being efficient and transparent, resulting in their customers becoming regular clients. Their vision is to be the best at helping people move and helping investors make the correct decisions. With Rochills it's all about trust, reputation and building long-term relationships.
What 'extra' costs are there?
The only additional charge Rochill's make is our referencing fees and only once you have been provisionally accepted for a property. We do not charge for visits, viewings, move-ins, move-outs or legal packs. So the only money you need to find is your Deposit and your rent. We like to look after our tenants, not fleece them.
When will the rent leave my account?
On the due date and our rental team will advise you of this when we set up the tenancy.
What if I have a problem with the property?
Rochills Managed service – if you have a problem or issue that requires a tradesman or repair, please contact us on 01932 22 21 21 during office hours or, for emergencies, we have a 24 hour emergency number which you will be provided with as part of your move-in pack.
Landlord Managed – Please contact your landlord. Rochills will not be able to provide advice.
Who can be my Guarantor?
If your referencing has been accepted, but you need to provide a Guarantor, it simply means that you may just be to the top of your affordability budget and so in case of any rent arrears, someone will need to stand in and pay the rent on your behalf. Both relatives and friends can act as a Guarantor but they must be in full time employment and be able to pass all the same checks, as well as being able to afford entirety of the rent. Your Guarantor will need to be reference and this will cost 325. Often, a landlord requests a Guarantor before referencing has been started. We will always let you know if this is the case in advance.
What happens on move in day?
Once agency agreements have been agreed and signed and referencing is acceptable, a move in date is mutually agreed between the tenant, agent and landlord. On the move in day, someone on the rental team will meet you at the property along with the inventory – the agent will go through the inventory with you giving you the opportunity to make any additions, then you will sign to agree to the current condition of the property. The agent will then take meter reading, we recommend you make a not for yourself too and hand over any keys. A welcome pack, including copies of agreements, the inventory and some general information and contact numbers will be provide to you shortly after move in. If your property is being managed by the landlord, our involvement stops t this point and we handover responsibility to your landlord.
What will I have to pay to begin the tenancy?
Unlike some agents, we do not belief in charging, in our opinion, unnecessary 'admin' fees – our charges are simple – £100 non-refundable referencing fee, first month's rent and deposit (Normally a month's rent plus a quarter) this is all you would need to move into a property with Rochills.
What if I have a problem or question, who do I contact?
If the property is being managed by Rochills, you would call us if you had any questions, issues or emergencies, we are contactable 24/7. If the property is not managed by us, you would need to contact your landlord, their details would be provided to you in the welcome pack.
What happens when our initial 6 or 12 month tenancy ends?
We will all you well within the end of the tenancy to check, providing the landlord is happy to continue with the tenancy, whether you wish to stay in the property and renew your tenancy or you wish to move out. If you choose to stay, a new agreement will be sent to you and you will continue for the new tenancy period. If you choose to move out, or the landlord does not wish to continue with the rental, we would go through a similar process to move in; we would meet you at the property, go through the inventory, take meter readings and collect keys.
How much do you charge if we wish to go ahead with a property?
A £100, non-refundable referencing fee for the first tenants
£150 for a couple
A further £25 if a Guarantor is required
If I have a problem during the tenancy who do I contact?
You will be informed at the move in if we are managing the property or if the owner is. You will also receive this information in your moving in packs. Whoever's contact details are there, this is who you should contact with a problem.
Who is responsible for contacting the utility companies?
You are! Please make sure you take your own meter readings on the day you move in and the day you move out and let all the appropriate utility companies know what you are doing.
What happens to my deposit?
Your Deposit is held independently under and with the Deposit Protection Service. Full information about the service can be found here
What if I am having trouble paying my rent?
Rochills Managed Service – If you think you are going to have problems paying your rent, please contact us as early as possible. Unpaid rent causes problems for everyone, not just you and we will discuss your options with you. Don't just not pay and hope everything will be ok this will make matters worse.
Landlord Managed – You should contact your landlord as soon as possible. Our rental team will not be able to provide advice.
If you decide on a property, you will need to let us know and we will then run it pass the landlord to make sure they are happy to go ahead. We will then begin the referencing process.
What happens during the reference process?
Once you have paid your referencing fee, we begin the referencing process. Each tenant 18 years old and over will go through this process and any guarantors that may be required. All can be done via the computer but also manually, if you prefer. A company called Rentshield will check various things such as credit history, employment references and landlord references (if applicable).
Once we take the referencing fee, the property is suspended from marketing until the referencing comes back. The result will come back as either 'accepted', 'accepted with Guarantor' or 'declined'. If you are accepted, we will normally arrange a move in date and sort all the legal paperwork with you. If you do not pass referencing, your fee will not be refunded and the property will be marked as available.
How do I sort out my utility providers?
We will contact utility companies on your behalf to advise of meter reading sup to you move in date. The utility companies then normally contact you with a bill and you may swap providers if you wish.
What if I have a problem or question, who do I contact?
If the property is being managed by Rochills, you would call us if you had any questions, issues or emergencies, we are contactable 24/7. If the property is not managed by us, you would need to contact your landlord, their details would be provided to you in the welcome pack.
When and how often will you inspect our property if managed by yourselves?
We carry out an initial inspection after a month just to make sure you have settled in and to make you and other tenants are happy. We then inspect every 6 months (more often if your landlord requests) and make sure that you are happy and there are no issues of which we would need to make the landlord aware.
Do I get my deposit back?
All our deposits are stored with the Deposit Protection Service -= providing the house is returned in the same condition as it was let and there are no rent arears, the whole deposit will be refunded to you. If there are any issues with the inventory or any rent arrears, we would then dispute, along with the landlord, to decide how much of the deposit would need to be held back.
What does the referencing included?
We use a company called Rentshield and they obtain current/previous employers, current/previous landlords, full credit check, affordability check and risk information.
How much is the deposit / in which scheme is my deposit kept?
We take one and a quarter times the monthly rental on all of our rental properties and all deposits are registered with the Deposit Protection Service. Some landlord's may want to register the deposit with their own scheme but we will always let you know who your deposit is registered.
Can we decorate once we start renting a property?
We always have to check with a landlord before any decorating is to start. This usually entails your bringing in a paint sample or wallpaper sample of colour/pattern of your choice and getting that agreed by the landlord. Usually if you are keeping the colour neutral or adding value to the property the landlord's often say yes!