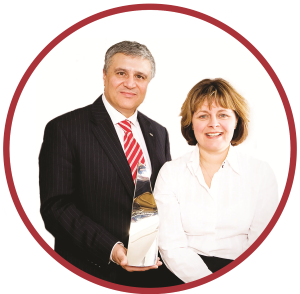 Marcel and Sarah Roccia
Founding Directors
Marcel and Sarah Roccia opened Rochills in 2003 in Walton on Thames which has now established itself as one of the most respected sales and lettings agency in Surrey.
Marcel and Sarah are proud that Rochills have won four property industry awards in the last four years and are currently voted by their clients as the Best Estate Agency 2015 for (1-3 offices). They strive to provide the best customer service while being efficient and transparent, resulting in their customers becoming regular clients. Their vision is to be the best at helping people move and helping investors make the correct decisions. With Rochills it's all about trust, reputation and building long-term relationships.
Do I have to have an EPC ?
An EPC is required by law when a building is constructed, sold or put up for rent. If you are a landlord or homeowner and need to provide an EPC, you will need to contact an accredited domestic energy assessor. They will carry out the assessment and produce the certificate.
Will my property details include a floorplan?
If you ordered your EPC through us then yes we include a floor plan as part of the package. If you are changing agents and already have an EPC, we can still provide a floor plan at a small additional charge.
Do I have to have a board ?
There are many valid reasons to have a for sale board;
People still drive around the area on a Sunday morning looking at particular roads they want 'get a feel for'
Members of the family will be looking to move to the area, a for sale board will spur them to speak to each other
'Opportunist' buyers will call as there are many people saying 'If a house in that road comes on the market, I will move'
Having a 'for sale' board confirms that you are ticking all the boxes in term of advertising your property.
Do you accompany viewings?
We certainly do, for a number of reasons;
We feel that buyers can be more honest when speaking with an agent rather than the 'polite' comments to the owner of the property
We understand that you are busy during the day and have other commitments, we are here to conduct the viewings are suitable times
We will get to the property early in order to prepare the property – the finishing touches can make all the difference when viewing the property.
We are sales people and have many year's experience in overcoming objections and selling the benefits of the property to potential buyers.
Do you belong to any associations?
We are members of 'The Guild of Professional Estate Agents.' The Guild have a network of approaching 800 independently owned offices throughout the UK. We have access to a comprehensive range of tools, training and marketing in order to achieve the best possible price for your property.
Do you use video to help in marketing my property?
Rochills use videos  where appropriate. Videos  are used for high end executive homes and where requested by clients or where it would benefit the marketing of a property although this is being phased into all our properties. Please ask for this service
Do you offer premium listings on Rightmove?
We offer premium listings on Rightmove to ensure that your property is seen by even more buyers. A property with a premium listing are viewed by more potential buyers, increasing your chances of selling by up to 35%.
What happens on completion day?
Completion day is here! Once we get confirmation from the solicitors that all monies have been received, we will call you to confirm this and liaise between you and your buyer regarding timings and release the keys to the new owners.
Do you offer a discrete marketing service?
We understand that many people prefer a discreet approach to selling their home, which is why we have developed a bespoke property marketing service that guarantees your privacy, profiles buyers and sellers with the aim of creating a perfect match and ensures that only buyers who are specifically searching for properties like yours are made aware of your property. No 'For Sale' Boards, No Pressure, No Fuss.
Which property portals will Rochills advertise my property?
We currently use Rightmove, On the Market, The Guild of Professional Estate Agents as well as a number of lesser known portals.
What are your opening times and days?
We are open 6 days a week. Monday to Friday we open from 9.00 am until 6.30pm and on Saturday we open at 9.00am closing at 5.00pm.
Do you use social media to help market my property?
We offer advertising through our prominent Facebook page and will also tweet your property to our many followers throughout the local area.
Do you advertise in a network?
The Guild offer advertising through their prominent website www.guildproperty.co.uk which also gives access for buyers coming from all areas of the UK. We are not in competition with other branches like corporate companies so speak with other agents on a regular basis to ensure we are advertising your property to every possible buyer.
Do you use a professional photographer?
We use professional photographers in order to market your property in the very best way. Having professional photographs will really 'show off' your home to its full potential.
Do you use a drone video?
Rochills use drones where appropriate. Drones are used for high end executive homes and where requested by clients or where it would benefit the marketing of a property. Please ask for this service.
How do you progress the sale?
The sale is now agreed! – Now you will have a dedicated sales-progressor to ensure the sale comes to a successful conclusion. The sales progressor will liaise between all yourself and your buyer as well as each party's solicitor, mortgage adviser, and any agent either below or above in the property chain. This will ensure the best communication between all parties in order to progress the sale through to exchange and completion.
Is it best to go on the market first or find a property first?
This is the golden question – should I find first? We would strongly recommend getting yourself into what we call a 'proceedable' position. You will of course, wanting to be looking for your next home and being on the market and attracting a buyer early will ensure that you are best placed once you find the right property for you.
The worst outcome is when you find the house of your dreams and not being able to move forward on this as you don't have a buyer for your property.