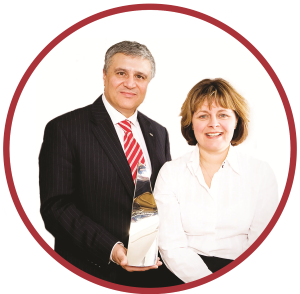 Marcel and Sarah Roccia
Founding Directors
Marcel and Sarah Roccia opened Rochills in 2003 in Walton on Thames which has now established itself as one of the most respected sales, lettings and estate management agencies in Surrey.
Marcel and Sarah are proud that Rochills have won four property industry awards in the last four years and are currently voted by their clients as the Best Estate Agency 2015 for (1-3 offices). They strive to provide the best customer service while being efficient and transparent, resulting in their customers becoming regular clients. Their vision is to be the best at helping people move, helping investors make the correct decisions and ensuring estate management is professional and transparent. With Rochills it's all about trust, reputation and building long-term relationships.
Leaseholder FAQ
There can be a lot involved in managing an estate. We've compiled a list of FAQs to help you make informed decisions. If there's anything else you'd like to ask us, please contact us on 01932 22 21 20.
Are Rochills my Management Company?
No. We are the managing agents appointed by your Management Company to administer the day to day running of the buildings and estate. Our responsibilities include preparation of the service charge budget, collection of any charges due to the Management Company, appointing/organising payments to contractors as well as ensuring maintenance is delivered to the development.
How do I pay my service charge?
Once you have received your service charge demand you will need to pay your service charge within the timescale set out in your Lease or Transfer. The quickest and most effective way to pay your service charge is via bank transfer using the bank details provided to you. You can view an up to date statement of your service charge account via our online system.
How do I report a maintenance issue?
To report any maintenance issues within the communal parts, please contact us via telephone, e-mail or visit our offices.
Our offices are open as follows:
Monday to Thursday between 9.00am and 6.30pm
Friday's between 9.00am and 6.00pm
Saturday's between 9.00am and 5.00pm
Outside of these times we operate an emergency out-of-hours service for urgent repairs and health & safety issues only.
Our office number is 01932 22 21 20 and our e-mail address is [email protected]
Why do I pay a service charge?
You have agreed, via your lease or transfer, to cover the provision of services which are required to maintain your development. This can include maintenance services such as cleaning and gardening, utilities costs such as electricity & water, insurance costs for buildings & estate areas and administration costs such as management and accountancy fees. For a more detailed explanation, please refer to your annual service charge budget.
Which parking space is allocated to my flat?
If you have allocated parking bay you will find details of this within your Lease, Transfer or the plan provided to you when you purchased your property. If you are unable to find the necessary information in these documents, then please contact us and we will be able to assist you.
How do I dispose of any bulk refuse?
Under no circumstances should you leave any bulk refuse in the communal areas of the development, including, the bin stores. You should call your Local Authority to determine where your nearest waste disposal/recycling depot is located. Your Local Authority may also provide a collection service.
"Thoroughly Professional…"
Having decided to change Managing Agents for our block of flats at Woodside about a year ago we have been delighted with the service we have received from Rochills.
They are prompt in responding to requests on day to day matters, proactive in areas where we, as a committee, lack knowledge and expertise and thoroughly personable and professional in their approach.
"Great work for St Clements House…"
I think the fact that you have stepped in to take over a complete mess and are wading through the various issues to improve the quality of our lives is probably the strongest recommendation. As I pointed out at the AGM you have done more since you took over than either of our previous agents did in 2 Years. I would definitely recommend you and Rochills to others.